3 Tips For A Successful Brand Photoshoot | Atlanta Headshot Photography
It's 2018 and having a personal brand is more important now than ever. It's not only important for entrepreneurs and business owners, but for individuals job-seeking as well.
Looking for tips to propel your personal brand forward? You can find those HERE, as well as mistakes to avoid while building your brand.
LinkedIn and Facebook are awesome ways to network and make connections online, and your avatar photo is your first impression. And we know what they say about first impressions, right? So we should all already know the importance of having a professional-looking photo to put your first virtual foot forward.
For us entrepreneurs, having professional looking photos is a MUST. Even if you're not the face of your brand, at some point you WILL have to connect with your consumers/clients in one way or another.
Having a successful brand photo session is pertinent to having a photo to represent your brand that's attention-grabbing in the right way that you can be proud of. So let's go over some tips to help you have a brand photoshoot that represents your brand in a positive way.
1. Make sure your color scheme embodies your brand's voice
Just like words mean things, colors mean things as well. Color theory is an important element in building a brand and it's definitely something you should consider when planning your photo session.
While this is something your photographer should mention while discussing your session beforehand, it's also a concept you can think about on your own as well. Think about what emotions you want your viewer to feel when they think of your brand, and pick your colors to evoke that emotion effectively.
Below is a chart with a few examples of colors and the emotions they tend to evoke when used:
Color theory also comes into play when choosing your outfit. Using the color wheel to coordinate your colors can make the difference between a photo that pops and a photo that falls flat.
Below are a few color wheel diagrams that illustrate how to use color theory to coordinate your color outfits.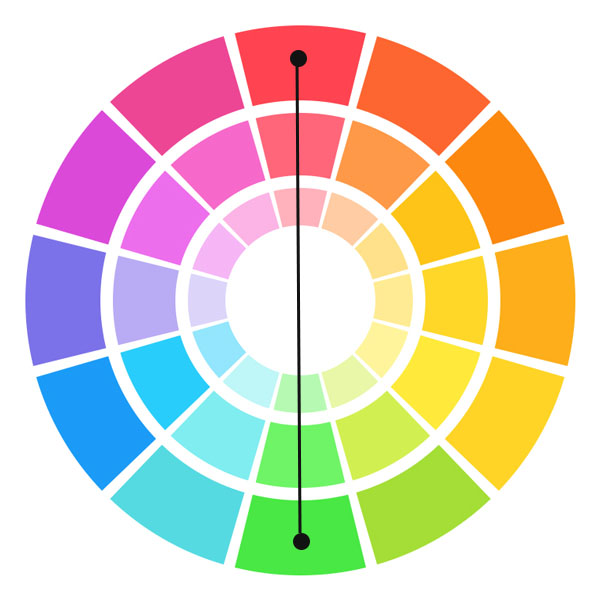 Complimentary colors are located across from each other on the color wheel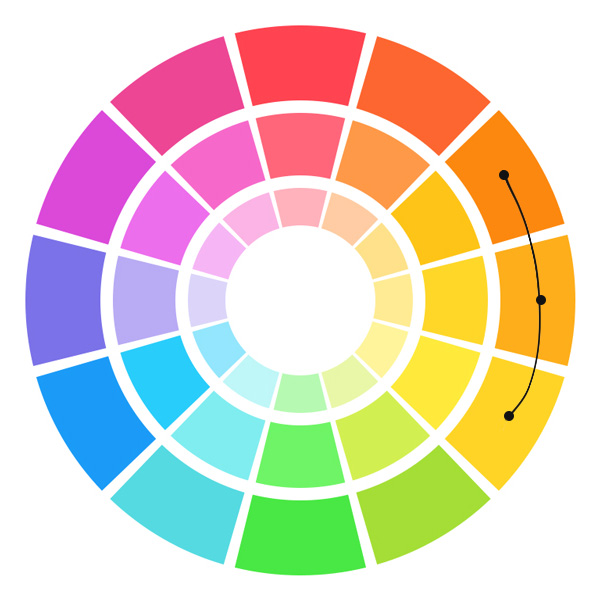 Analagous colors lie next to each other on the color wheel
Monochromatic colors are different shades of the same hue.
2. Choose an appropriate backdrop
This tip is two-fold.
First, make sure you choose a backdrop that matches the vibe of your brand appropriately. Meaning, if your brand is based on being vegan, organic, and natural – including a backdrop with greenery and plant-life in some way would be ideal. Having the stark backdrop a city scape provides wouldn't match your brand the best.
If your brand is based on health and wellness, a coffee shop wouldn't be the best backdrop to illustrate your brand's voice. However, a gym or a city rooftop would provide an awesome backdrop for you to carry out your session.
Even decisions that might not seem important, such as where exactly your photoshoot takes place, can make a huge difference. Choosing the right backdrop can help your brand's voice come through loud and clear. Choosing the wrong backdrop can confuse your audience as to your brand's exact identity.
Choose wisely.
Second, make sure your outfit matches your backdrop. There's no reason you should be wearing heels and a pencil skirt in the middle of the woods. Likewise, it wouldn't make sense for you to have on gym shorts sitting in a coffee shop.
Make sure all of the aspects of your photoshoot tie in together to tell a complete story. This means your outfit should match your backdrop, and your backdrop should make sense.
Q: Why is she sitting in a coffee shop wearing a collared, blue button-up shirt while working on a laptop?
A: Because she's a marketing strategist with plenty of knowledge ready to help you take your business to the next level.
These are the types of questions viewers will subconsciously ask themselves while viewing your photos.
Make sure the answers make sense.
3. Hire professionals
I know this might not seem like a popular tip in the midst of the DIY times we're in. Trust me, I love a good DIY as much as the next person. But when it comes to your brand, DIY is not always the way to go.
It's important to have a team that has studied all the various aspects of their specialty to help you look your best during your shoot.
A PROFESSIONAL AND EXPERIENCED makeup artist will know what shade of makeup you need to help avoid looking like a ghost on camera. They will know how to set your makeup so it doesn't melt in the middle of your shoot. They will have knowledge on how to blend your eyeshadow so you don't look like a clown on your website front page.
A PROFESSIONAL AND EXPERIENCED stylist will help you look snatched in your outfit. They'll know how to style you in colors that don't clash. They'll have knowledge of figure-flattering clothing items that will make you look your best AND feel confident during your session.
A PROFESSIONAL AND EXPERIENCED photographer will help you choose the best location for your shoot. They'll be able to tell you what colors will not look good on camera. They'll avoid unattractive shadows falling across your face in your photos. They'll know how to retouch to help you look your best. They will have a client agreement for you to sign to make sure you receive the best customer service. They'll have a time frame for when you can expect your photos.
….do you see where I'm going with this?
Save yourself some stress and hire professionals to help every step of the way. I promise it makes all the difference. And the words "professional" and "experienced" are not capitalized just for the heck of it. Those words are important, y'all.
Your brand is your baby. Treat your baby right. Take care of your baby.
Entrust your baby to someone who wants the best for it, just like you do.